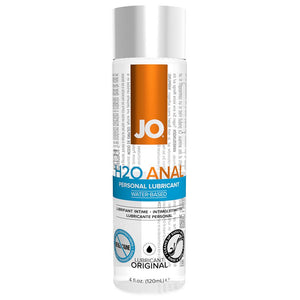 Specifically created to enhance anal play as well as the overall sexual experience, Jo's Anal H2O adds incredible silicone-like slickness to sex, foreplay and self love, with or without toys involved.

This intensely lubricating, ultra gentle formula contains pure high quality vegetable based glycerine, which is non-irritating unlike the animal based version of the same, and it won't upset the delicate pH balance of the body.

The fact that H20 is water based is precisely what makes it so versatile, this fantastically long-lasting lube is perfectly compatible with all toy materials including silicone and all varieties of rubber, it's also condom safe and great for skin-to-skin contact. Clean up is easy and mess-free, as Anal H20 won't stain or discolor clothing, sheets and other fabrics, plus, it washes off skin and toys with plain water.
Features
Size: 4 oz
Flavor: Unflavored
Special Features: Anal Lube, Unscented